SAME DAY COMMERCIAL LOCKSMITH SERVICES IN HOUSTON AND SORROUNDING AREAS. 
No commercial job too small, no project too big
PROFESSIONAL LOCKSMITH FOR ANY BRAND
BH Locksmith Houston has been attending to the locksmith service needs of people in the Houston area as well as in the nearby areas for many years. We have a solid reputation of reliability and trustworthiness, as well as experience in a wide range of specialized residential, commercial, and automotive locksmith services. We work and are manufacturer in every major Lock manufacturer / brand, including but not limited to the list below. And offer Custom tailored security solutions fit for any business or home. ranging from maintenance, to installation, access control, panic bars, and much much more. 




LOCKSMITH FOR YOUR BUSINESS IN HOUSTON
We already have thousands of satisfied clients for commercial locksmith services in the Houston area and many of them have turned up into our regular customers. Our commercial services include solutions for lost office keys, safe combination resets, rekeying, high security locks and system installations, file cabinet solutions, master key implementations and all other commercial locksmith Houston you would think of. BH Locksmith is ready 24 hours a day and seven days a week to help you in any type of emergency locksmith needs. Do not wait for the next office hours and call us anytime you need for emergency locksmith services.
FULL RANGE OF COMMERCIAL LOCKSMITH SERVICES
In the commercial locksmith segment, we provide some specialized services to businesses, both big and small to safeguard to ensure the safety of their assets and structures such as:
Master Key Systems – Utilize master key systems to control your company and its components. Using the master key systems, you can open a set of specific doors. Apart from convenience, you get saving in time, cost and less number of replacement keys are needed.
Controlled Access Systems – Using intercoms and advanced telephone systems can help you to control access. You can seek to reduce security staff needed and inter-office communicators or messengers. Managing office and its access points has never been easier.
Advanced Alarm Systems – Alarm Systems are an excellent tool for safeguarding your business property and related assets within it.
Pick Resistant Locks – Make your office and its assets like vaults, safes and file cabinets safe by installing pick resistant locks. They make key bumping and lock picking extremely difficult and manage to safeguard the assets.
Keycard Entry Systems – Entry systems pre-programmed with magnetic or digital codes are available in the Keycard entry systems. Keycard entry systems are an advanced kind of master key system which can be used to open specific doors only. You can also choose to insert chips into existing employee cards instead of installing a new set of cards.
CCTV Systems – Newer CCTV systems are now present which have much better resolution and a more comprehensive coverage area to give you a more closely watched experience.
COMMERCIAL LOCKSMITH IN GREATER HOUSTON
BH Locksmith in Houston TX providing Commercial service we understands how important is to keep your business safe and secure. With our best locksmiths who are trained and licensed, you can be sure that you are going to get the best commercial locksmith services in the Houston area. Our commercial services locksmiths are constantly being trained in the most of the commercial locksmith Houston technologies and they are given the best tools and technologies useful for a quality locksmith work. By using the pool of trained commercial locksmiths equipped with latest technologies and tools, we are always sure and ready to help you with any commercial locksmith services you need. We truly understand that being locked out of your business means that you are losing money. We provide 24 Hour Locksmith Houston commercial locksmith services and our experts can be on the scene within 20 minutes of your calling. With a sound knowledge staff we will help you to get back into your office as fast as possible. Do not wait for any unskilled locksmith! He may waste your time. Call BH Locksmith today and take the use of advanced commercial locksmith Houston services.
HOUSTON'S LEADING LOCKSMITH PROFESSIONALS.
If you are worried about paying a hefty amount for installing new locks at home or duplicating car key, just relax. When you hire B"H Locksmith Houston, the service charges are not going to bleed the wallet! As Houston, Texas's leading locksmith service providers we have priced all packages quite reasonably. In fact, you will not have to spend a lot by opting for our emergency service. No matter if you need a key duplication or installation of heavy duty locks at office, you should hire bonded and licensed locksmith entities. We are fully insured and keep only licensed professionals in our team. So, you remain absolutely on safe side even for extensive lock installation or repair services.
EMERGENCY LOCKSMITH IN HOUSTON

At BH Locksmith, we understand that lockouts are unpredictable events that tend to happen at the most inconvenient time. For this reason, 24/7 emergency services, BH Locksmith Houston will handle any lock, lock safe or security issue for you whenever you need it. You can contact us 24 hours, every day of the week. Whether you need us because you had an attempted burglary and you want to secure the property, you want a lock out service or some other lock change and repairs, we are quick and easy to contact. You can expect us to arrive under 20 minutes, we will unlock your door in the middle of the night, temporarily secure your property and much more. Moreover, the price of our services is ridiculously low.
ALL TYPES OF LOCKSMITH SERVICES
We, at BH Locksmith, can tackle all types of Houston locksmith issues. If you find the main door lock badly damaged after an intrusion attempt, call us immediately. We can replace damaged door and safe locks quickly. You may also ask us to replace a very old door lock with a new unit. Our locksmith Houston tx services also cover augmenting existing locks. Duplicating lost keys is not aproblem when you contact us too. We cater to business clients with advanced electronic lock setups. Our staffs can setup remote operated and alarm equipped lock systems at commercial areas like shop, restaurant and healthcare units. We can address any type of home lock related issues too. Automobile lock related problems can be quite tedious for anyone. You may land up locked out of a car away from home! The car key may get lost or broken. Do not panic in those situations. Our mobile locksmith service can be your savior. Our staffs will reach you quickly and address the problem. Our staffs can service a variety of car models for ignition key and keyless entry system including sedans and hatchbacks.
SAME DAY MOBILE LOCKSMITH SERVICE ANYWHERE. IN HOUSTON
B"H Locksmith Houston offers same day, mobile service anywhere in or around Houston. We provide Cheap Car Locksmith Services 24-7 to give assistance and solutions anywhere in Houston, TX area. We provide truthful and reliable solutions for every one your needs if you require home, business or auto locksmith care. To be there for you we work night and day every day of the week and holidays anytime you have locksmith service needs, As a top Houston locksmith agency we understand how lock related hassles may happen without notice! You need not panic if your door lock starts malfunctioning at early morning or your car lock gets broken suddenly when you are away from home. Our emergency locksmith services cover all types of lock and key issues. We operate 24/7 as a leading Locksmith Houston TX. Call us without any hesitation anytime and even on festive days.
COMMERCIAL LOCKSMITH SERVICES
Access Control Systems
Automated security systems
Biometric Lock Install
Business automotive keys
Business unlock services
Buzzer Systems
Cabinet Locks
Commercial Lock & Key Change
Commercial Safes
Delivery and installation
Digital Door Locks
Door Closer Locks
Fix broken doors
Fix broken safes
Garage Lock
Grade 1 Lock Installation
Heavy Duty Locks
High Security Locks
Key Fob System
Keyless Entry System
Lock rekeys and repairs
Lock sales and installation
Low voltage systems
Mass key duplication
Master key systems
Office Lockout
Panic Bars
Profile Cylinder Locks
Push and panic bars
Security assessments
Security cameras
Security DVRs
Un-pickable locks
Unlock safes
Upgrade existing safes
Window Locks
Wiring and installation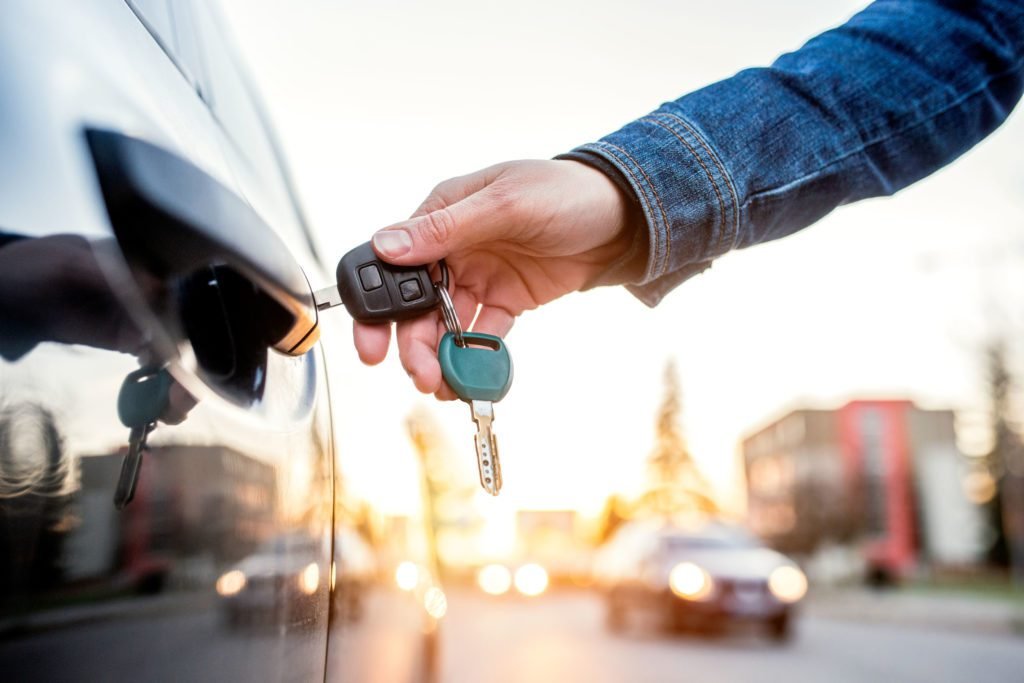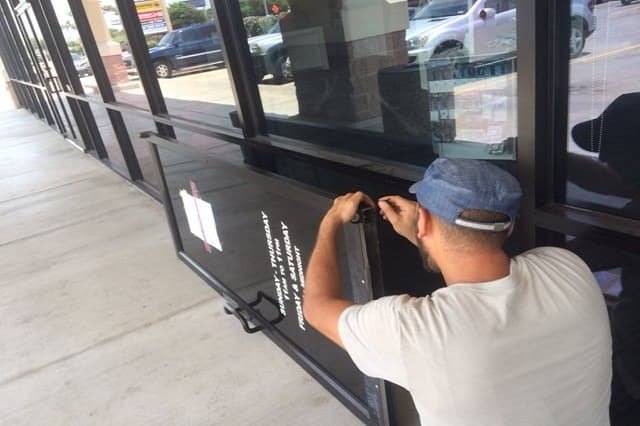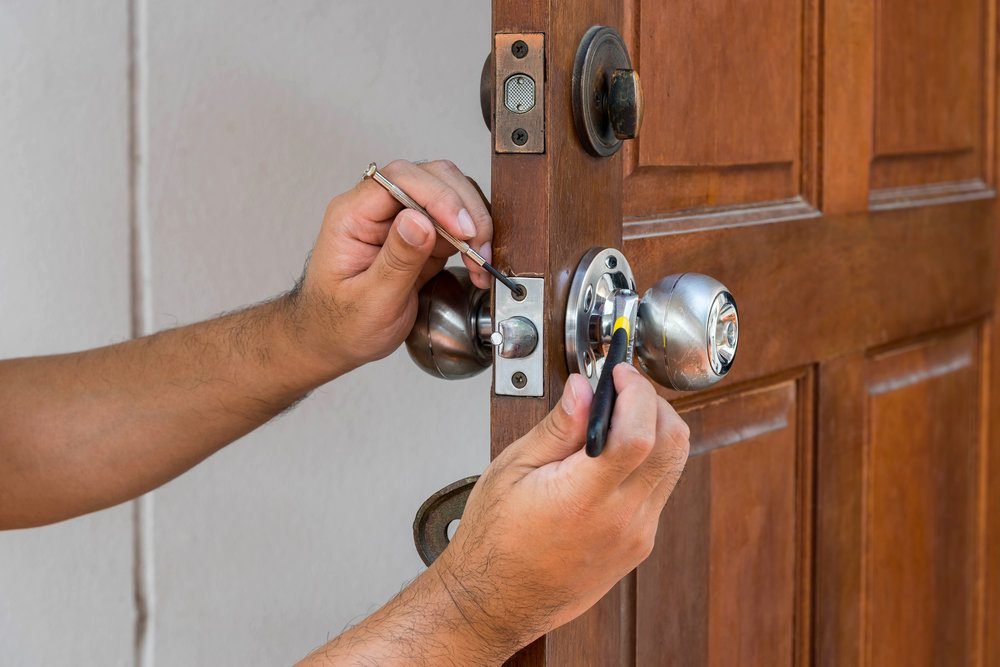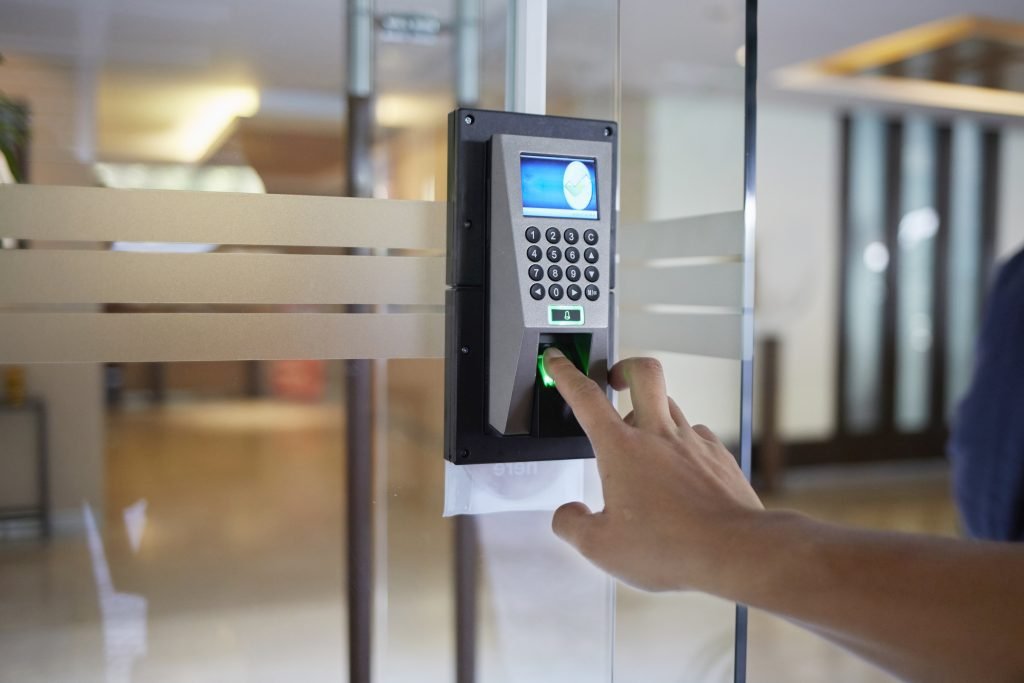 LICENSED & INSURED COMMERCIAL LOCKSMITH IN HOUSTON
BH Locksmith is locally owned, licensed and insured locksmith company operating right here out of Houston. We are offer much more than just home lockouts, lock installations, or lock repair. Whether you are building a new home or choosing to upgrade your home's old locks, Whether you are locked out of your car or truck, or need to get a replacement key fob on the spot or an ignition replacement or repair, our locksmiths are standing by 7 days a week anywhere in Houston (and most place in Harris County).

PROUDLY SERVING HOUSTON A DECADE
 B"H Locksmith has been serving Houston TX as one of the leading local locksmith companies in the city for nearing 10 years. WE provide a full suite of locksmith services to the entire Houston area. No matter whatever kind of Locksmith service you need, if you're in or around Houston  we'll send an expert locksmith straight to your location in a approx. 20 minutes (depending on distance and traffic). We can handle any type of residential, commercial or automotive locksmith service you may require. We also offer emergency same day mobile services. 
ADDITIONAL SERVICES
B"H Locksmith Houston offers a full range of additional services. From electronic access control systems, garage door repair, or security cameras, we do it all!
AUTOMATC GATE INSTALLATION
B"H Locksmith offers a wide range of gate openers and gate designs custom made to fit the needs of any new gate installation in Houston
AUTOMATIC GATE REPAIR
B"H Locksmith Gate Repair services in Houston understands the importance of a working gate for security and mobility. Thanks to our years of experience, mobile staff, and a large supply network we're can help get most gates up and running in no time.
CCTV & SECURITY CAMERAS
B"H Locksmith offers the latest in CCTV & Security Cameras Installation in Houston.Thanks to our advanced options such as wireless cameras, commercial grade outdoor/ indoor cameras, Advanced motion detection, 4k video quality, night vision, and much more! 
GARAGE DOOR REPAIR HOUSTON
B"H Locksmith Garage Door Repair services are second to none. From full installations, to quick same day garage door repair. 
SAFE INSTALLATION HOUSTON
We offer consultation and installation services for many safes and vaults.  
SAFE SERVICE/UNLOCK
It's important to find a reliable company to provide you with the service to promptly safe crack your home or business' safe. B"H Locksmith Houston Safe unlock and cracking services is one of the best in town. Rely on our experience and we'll get your belongings out of the safe and in your hand in a snap.
COMMON SERVICE CITIES
 Houston, Pasadena, Bellaire, West University Place, Downtown Houston, Galeria Park, Texas Southern University, Pearland, Sugar Land, Cypress, League City, Channelview, The Woodlands, Baytown, Conroe, Deer Park, Friendswood, Missouri City, Richmond, South Houston, Tomball, Katy, Aldine, Uptown Houston. and all Houston surrounding areas. 
Aldine
Alvin
Atascocita
Barrett
Baytown
Bellaire
Brookshire
Channelview
Cleveland
Conroe
Crosby
Dayton
Deer Park
Dickinson
Down Town Houston
Freeport
Fresno
Friendswood
Galena Park
Galveston
Houston
Humble
Katy
Kemah
Kingwood
La Marque
La Porte
Lake Jackson
League City
Magnolia
Mission Bend
Missouri City
Montgomery
Pasadena
Pearland
Richmond
Rosenberg
Rosharon
Santa Fe
Seabrook
South Houston
Spring
Stafford
Sugar Land
Texas City
The Woodlands
Tomball
Webster
West University Place
Willis
Uptown Houston
COMMON SERVICE ZIP CODES
B"H Locksmith Houston commonly provides services to the following zip codes:
77001, 77002, 77003, 77004, 77005, 77006, 77007, 77008, 77009, 77010, 77011, 77012, 77013, 77014, 77015, 77016, 77017, 77018, 77019, 77020, 77021, 77022, 77023, 77024, 77025, 77026, 77027, 77028, 77029, 77030, 77031, 77032, 77033, 77034, 77035, 77036, 77037, 77038, 77039, 77040, 77041, 77042, 77043, 77044, 77045, 77046, 77047, 77048, 77049, 77050, 77051, 77052, 77053, 77054, 77055, 77056, 77057, 77058, 77059, 77060, 77061, 77062, 77063, 77064, 77065, 77066, 77067, 77068, 77069, 77070, 77071, 77072, 77073, 77074, 77075, 77076, 77077, 77078, 77079, 77080, 77081, 77082, 77083, 77084, 77085, 77086, 77087, 77088, 77089, 77090, 77091, 77092, 77093, 77094, 77095, 77096, 77097, 77098, 77099, 77201, 77202, 77203, 77204, 77205, 77206, 77207, 77208, 77209, 77210, 77212, 77213, 77215, 77216, 77217, 77218, 77219, 77220, 77221, 77222, 77223, 77224, 77225, 77226, 77227, 77228, 77229, 77230, 77231, 77233, 77234, 77235, 77236, 77237, 77238, 77240, 77241, 77242, 77243, 77244, 77245, 77246, 77247, 77248, 77249, 77250, 77251, 77252, 77253, 77254, 77255, 77256, 77257, 77258, 77259, 77260, 77261, 77262, 77263, 77265, 77266, 77267, 77268, 77269, 77270, 77271, 77272, 77273, 77274, 77275, 77276, 77277, 77278, 77279, 77280, 77282, 77284, 77285, 77286, 77287, 77288, 77289, 77290, 77291, 77292, 77293, 77294, 77296, 77297, 77298, 77299 — AND MANY MORE!
If your zip code is not in the list above, and you're located in/around Houston or Harris County, call us directly and we may still be able to send a locksmith to your location!
B"H LOCKSMITH ALDINE
BH Commercial Locksmith & Automatic Gate Repair
6720 Chimney Rock Rd suite r, Houston, TX 77081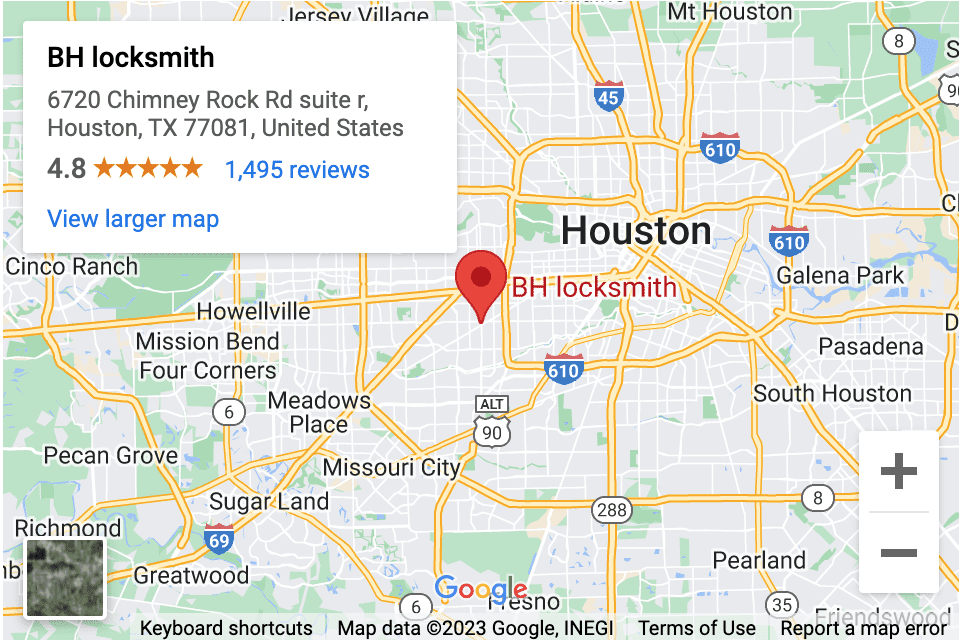 B"H LOCKSMITH HOUSTON
BH Commercial Locksmith & Automatic Gate Repair
6720 Chimney Rock Rd suite r, Houston, TX 77081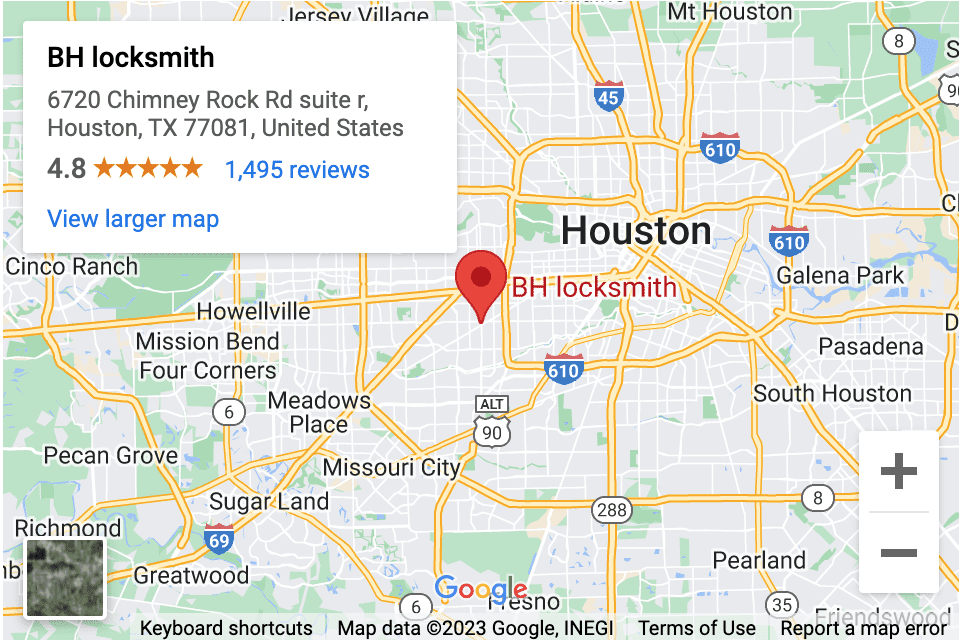 B"H LOCKSMITH MISSOURI CITY
REQUEST A LOCKSMITH ESTIMATE ONLINE
B"H LOCKSMITH HOUSTON
BH Locksmith Houston has been the one stop shop for all locksmith needs for the people in the greater area of Houston TX nearing a decade. We are licensed, bonded, and insured with a solid reputation of reliability and a wide scope of services. We offer any locksmith service from automotive, commercial, residential, and emergency locksmith services. For additional info, or if you're in need of a locksmith call now!