RESIDENTIAL LOCKSMITH HOUSTON
SAME DAY LOCKSMITH SERVICE FOR YOUR HOME OR APARTMENT
No job too small, no project too big
RESIDENTIAL LOCKSMITH FOR ANY BRAND
BH Locksmith Houston has been attending to the locksmith service needs of people in the Houston area as well as in the nearby areas for many years. We have a solid reputation of reliability and trustworthiness, as well as experience in a wide range of specialized residential, commercial, and automotive locksmith services. We work and are manufacturer in every major Lock manufacturer / brand, including but not limited to the list below. And offer Custom tailored security solutions fit for any business or home. ranging from maintenance, to installation, access control, panic bars, and much much more. 




BEST RESIDENTIAL LOCKSMITH SERVICE IN HOUSTON
Whether you are locked out or just need to replace a lock, our locksmiths are standing by 24 hours a day 7 days a week. Residential services include: all high security locks, deadbolts, cylinders, intercom systems, buzzer systems, doors, window guards & gates & safes. We know that your home should be the safest place in the world, and that the things you love the most are kept there. Our staff is highly trained, and will honor your privacy, possessions, and time. Your home, and your safety are our priority. We look forward to serving you!
LOCKSMITH FOR YOUR HOME
Residential Locksmith Houston With the increase in the crime rates and to protect the home and family from intruders it is imperative to install an efficient and advanced security locks. But, if you do not have any security locks installed at your home or want to repair your old locks, then BH Locksmith Houston. can help you in installing the suitable security solution. We offer a comprehensive range of the residential locksmith Houston, TX. From the installation of security locks to the repair of the door locks, we help make your home safe and secure.
TRUSTED HOUSTON LOCAL COMPANY
At BH Locksmith, we are very proud to provide you with professional and comprehensive residential locksmith services. The best quality products at the most affordable rates in the entire Houston and surrounding areas. Our talented team will come to you with all the proper tools and products, knowledge and expertise to help you with all your home security needs.
BH Locksmith Houston offers affordable solutions for your home and family in Houston, Texas , from re keying your locks to letting you back in your house 24 hours. When moving into a new house or apartment , with all the mess and excitement, we sometimes forget there's a whole bunch of people who might have a spare copy to your keys left by the old tenant : family members , neighbors, contractors, house sitters and the list goes on . Call BH Locksmith for a standard lock re key and make sure your keys stay yours. you can even make use of our online new mover coupon and make it even more affordable . Our locksmiths can come for scheduled estimate and inform you with new ways for you to upgrade the level of your security.
Custom Locks
Door Knob
Door Lock Repair
Duplicating Keys
Fence Gate Locks
Garage Lock
Grade 1 Locks
Heavy Duty Locks
High Security Locks
Home Lockouts
Locking Mailbox
Master Key System
Peep Holes
Sliding Doors Locks
Steering Wheel Locks
RE-KEY SERVICES HOUSTON
This is one of our most requested residential locksmith Houston. Residential locks re-keying is pretty popular for many reasons. The primary reason though is safety. Sometimes when keys get lost, it's much better to have a lock re-key than to just have new keys produced. You never know what could've happened with your lost keys. If it somehow gets in the hands of the wrong person, then you know what could happen. So sometimes, it's best to just have a complete lock re-key in Houston, to be on the safe side.
LOCKED OUT OF YOUR HOME
One of the most common things our locksmiths do is respond to situations where people have accidently locked themselves out of their home. This often happens at the worst possible times because people are in a rush, and simply forget to grab their keys before walking out the door. We can have an expert residential locksmith dispatched to your house any time of the day or night to help you get back inside quickly and easily, There are a number of situations that call us for residential lock repair, replacement, and installation. You may not feel comfortable with a certain person that might have a key to your home and want to replace the locks. You may be a realtor and your job requires you to replace and install new locks regularly. Or perhaps your lock has simply worn down and you are having a tough time getting your current key to work. Fortunately, BH Locksmith Houston can assist you with any of your lock related needs and get you back to feeling secure in your own home.
RESIDENTIAL LOCKSMITH
Whether you are locked out or just need to replace a lock, our locksmiths are standing by 24 hours a day 7 days a week. Residential services include: all high security locks, deadbolts, cylinders, intercom systems, buzzer systems, doors, window guards & gates & safes. We know that your home should be the safest place in the world, and that the things you love the most are kept there. Our staff is highly trained, and will honor your privacy, possessions, and time. Your home, and your safety are our priority. We look forward to serving you!
LICENSED & INSURED LOCKSMITH IN HOUSTON, TX
BH Locksmith is locally owned, licensed and insured locksmith company operating right here out of Houston. We are offer much more than just home lockouts, lock installations, or lock repair. Whether you are building a new home or choosing to upgrade your home's old locks, Whether you are locked out of your car or truck, or need to get a replacement key fob on the spot or an ignition replacement or repair, our locksmiths are standing by 7 days a week anywhere in Houston (and most place in Harris County).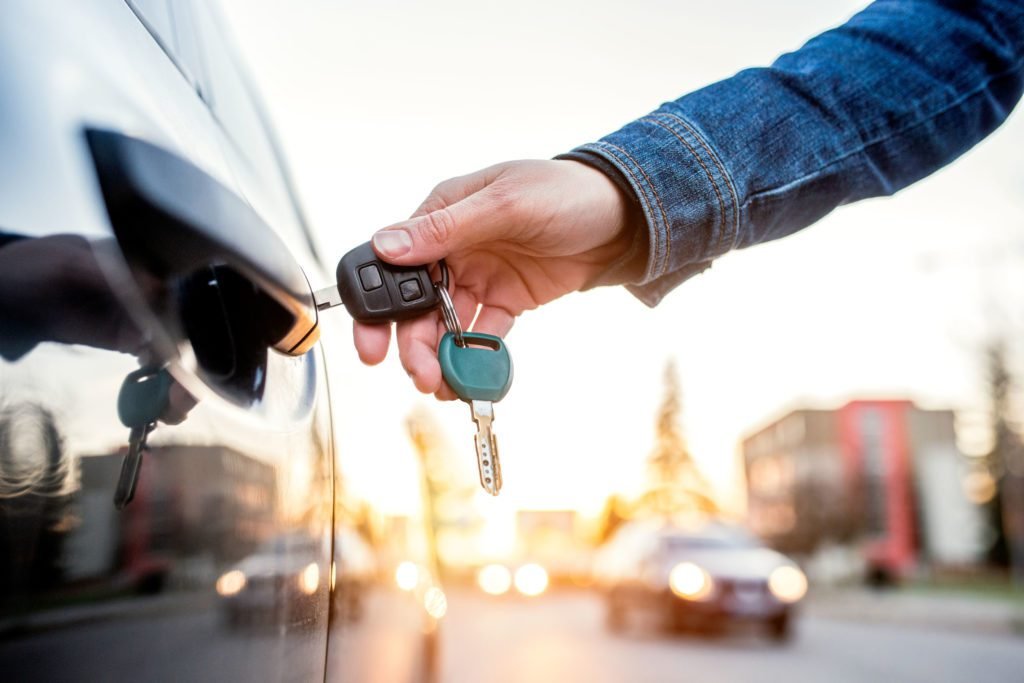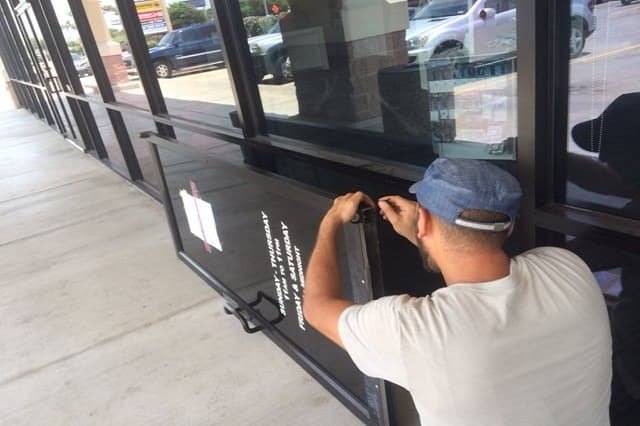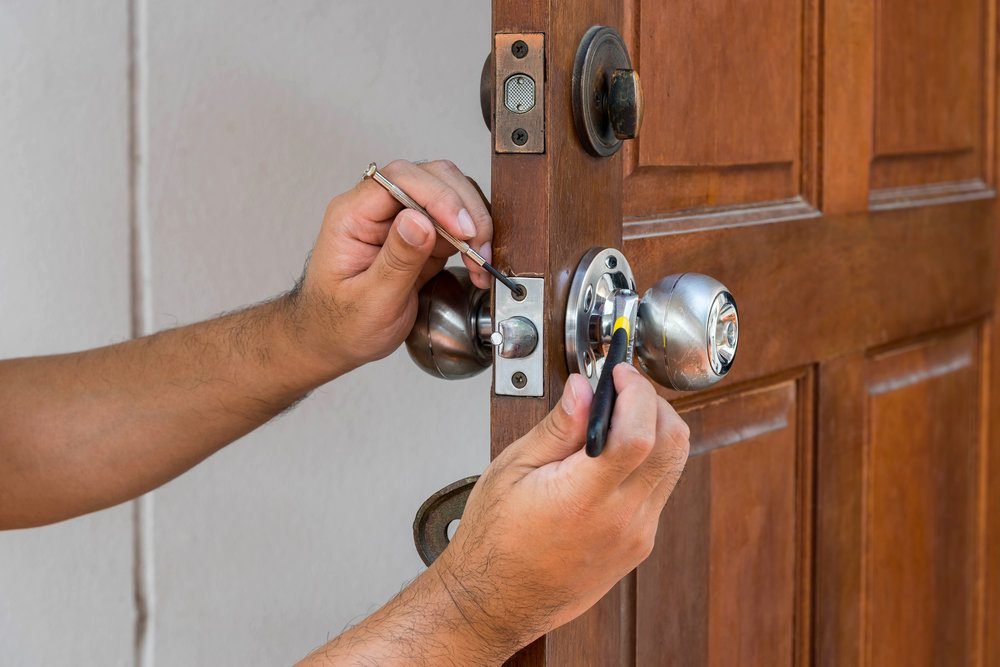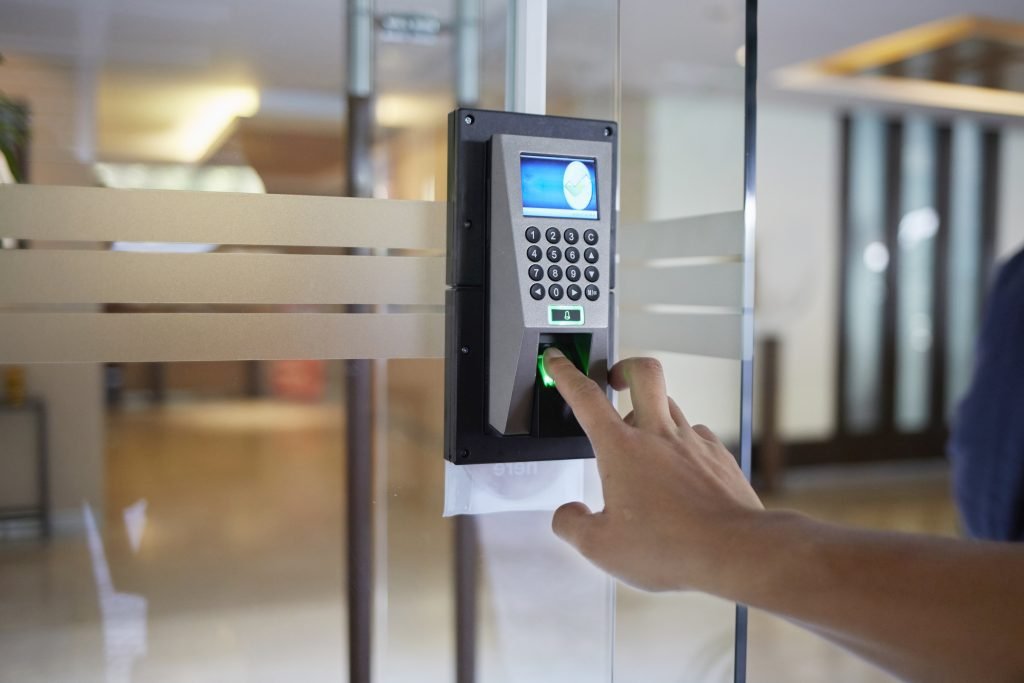 ADDITIONAL SERVICES
B"H Locksmith Houston offers a full range of additional services. From electronic access control systems, garage door repair, or security cameras, we do it all!
AUTOMATC GATE INSTALLATION
B"H Locksmith offers a wide range of gate openers and gate designs custom made to fit the needs of any new gate installation in Houston
AUTOMATIC GATE REPAIR
B"H Locksmith Gate Repair services in Houston understands the importance of a working gate for security and mobility. Thanks to our years of experience, mobile staff, and a large supply network we're can help get most gates up and running in no time.
CCTV & SECURITY CAMERAS
B"H Locksmith offers the latest in CCTV & Security Cameras Installation in Houston.Thanks to our advanced options such as wireless cameras, commercial grade outdoor/ indoor cameras, Advanced motion detection, 4k video quality, night vision, and much more! 
GARAGE DOOR REPAIR HOUSTON
B"H Locksmith Garage Door Repair services are second to none. From full installations, to quick same day garage door repair. 
SAFE INSTALLATION HOUSTON
We offer consultation and installation services for many safes and vaults.  
SAFE SERVICE/UNLOCK
It's important to find a reliable company to provide you with the service to promptly safe crack your home or business' safe. B"H Locksmith Houston Safe unlock and cracking services is one of the best in town. Rely on our experience and we'll get your belongings out of the safe and in your hand in a snap.
HOUSTON'S LEADING LOCKSMITH PROFESSIONALS.
If you are worried about paying a hefty amount for installing new locks at home or duplicating car key, just relax. When you hire B"H Locksmith Houston, the service charges are not going to bleed the wallet! As Houston, Texas's leading locksmith service providers we have priced all packages quite reasonably. In fact, you will not have to spend a lot by opting for our emergency service. No matter if you need a key duplication or installation of heavy duty locks at office, you should hire bonded and licensed locksmith entities. We are fully insured and keep only licensed professionals in our team. So, you remain absolutely on safe side even for extensive lock installation or repair services.
EMERGENCY LOCKSMITH IN HOUSTON

At BH Locksmith, we understand that lockouts are unpredictable events that tend to happen at the most inconvenient time. For this reason, 24/7 emergency services, BH Locksmith Houston will handle any lock, lock safe or security issue for you whenever you need it. You can contact us 24 hours, every day of the week. Whether you need us because you had an attempted burglary and you want to secure the property, you want a lock out service or some other lock change and repairs, we are quick and easy to contact. You can expect us to arrive under 20 minutes, we will unlock your door in the middle of the night, temporarily secure your property and much more. Moreover, the price of our services is ridiculously low.
ALL TYPES OF LOCKSMITH SERVICES
We, at BH Locksmith, can tackle all types of Houston locksmith issues. If you find the main door lock badly damaged after an intrusion attempt, call us immediately. We can replace damaged door and safe locks quickly. You may also ask us to replace a very old door lock with a new unit. Our locksmith Houston tx services also cover augmenting existing locks. Duplicating lost keys is not aproblem when you contact us too. We cater to business clients with advanced electronic lock setups. Our staffs can setup remote operated and alarm equipped lock systems at commercial areas like shop, restaurant and healthcare units. We can address any type of home lock related issues too. Automobile lock related problems can be quite tedious for anyone. You may land up locked out of a car away from home! The car key may get lost or broken. Do not panic in those situations. Our mobile locksmith service can be your savior. Our staffs will reach you quickly and address the problem. Our staffs can service a variety of car models for ignition key and keyless entry system including sedans and hatchbacks.
SAME DAY MOBILE LOCKSMITH SERVICE ANYWHERE. IN HOUSTON
B"H Locksmith Houston offers same day, mobile service anywhere in or around Houston. We provide Cheap Car Locksmith Services 24-7 to give assistance and solutions anywhere in Houston, TX area. We provide truthful and reliable solutions for every one your needs if you require home, business or auto locksmith care. To be there for you we work night and day every day of the week and holidays anytime you have locksmith service needs, As a top Houston locksmith agency we understand how lock related hassles may happen without notice! You need not panic if your door lock starts malfunctioning at early morning or your car lock gets broken suddenly when you are away from home. Our emergency locksmith services cover all types of lock and key issues. We operate 24/7 as a leading Locksmith Houston TX. Call us without any hesitation anytime and even on festive days.
RESIDENTIAL LOCKSMITH SERVICES
Access Control Systems
Biometric Lock Install
Broken key extractions
Buzzer Systems
Cabinet Locks
Child safety locks
Commercial Lock & Key Change
Commercial Safes
Digital deadbolt installs
Digital Door Locks
Door Closer Locks
Front door cameras
Garage Lock
Grade 1 Lock Installation
Heavy Duty Locks
High security locks
Home security systems
House Lockouts
Install new lock hardware
Key creation
Key duplication
Key Fob System
Keyless Entry System
Lock / Deadbolt repair
New home security survey
Office Lockout
Panic Bars
Profile Cylinder Locks
Rekey existing locks
Spare key holders
Strike plate adjustments
Stuck / No closing locks
Unlock services
Window Locks
COMMON SERVICE CITIES
 Houston, Pasadena, Bellaire, West University Place, Downtown Houston, Galeria Park, Texas Southern University, Pearland, Sugar Land, Cypress, League City, Channelview, The Woodlands, Baytown, Conroe, Deer Park, Friendswood, Missouri City, Richmond, South Houston, Tomball, Katy, Aldine, Uptown Houston. and all Houston surrounding areas. 
Aldine
Alvin
Atascocita
Barrett
Baytown
Bellaire
Brookshire
Channelview
Cleveland
Conroe
Crosby
Dayton
Deer Park
Dickinson
Down Town Houston
Freeport
Fresno
Friendswood
Galena Park
Galveston
Houston
Humble
Katy
Kemah
Kingwood
La Marque
La Porte
Lake Jackson
League City
Magnolia
Mission Bend
Missouri City
Montgomery
Pasadena
Pearland
Richmond
Rosenberg
Rosharon
Santa Fe
Seabrook
South Houston
Spring
Stafford
Sugar Land
Texas City
The Woodlands
Tomball
Webster
West University Place
Willis
Uptown Houston
COMMON SERVICE ZIP CODES
B"H Locksmith Houston commonly provides services to the following zip codes:
77001, 77002, 77003, 77004, 77005, 77006, 77007, 77008, 77009, 77010, 77011, 77012, 77013, 77014, 77015, 77016, 77017, 77018, 77019, 77020, 77021, 77022, 77023, 77024, 77025, 77026, 77027, 77028, 77029, 77030, 77031, 77032, 77033, 77034, 77035, 77036, 77037, 77038, 77039, 77040, 77041, 77042, 77043, 77044, 77045, 77046, 77047, 77048, 77049, 77050, 77051, 77052, 77053, 77054, 77055, 77056, 77057, 77058, 77059, 77060, 77061, 77062, 77063, 77064, 77065, 77066, 77067, 77068, 77069, 77070, 77071, 77072, 77073, 77074, 77075, 77076, 77077, 77078, 77079, 77080, 77081, 77082, 77083, 77084, 77085, 77086, 77087, 77088, 77089, 77090, 77091, 77092, 77093, 77094, 77095, 77096, 77097, 77098, 77099, 77201, 77202, 77203, 77204, 77205, 77206, 77207, 77208, 77209, 77210, 77212, 77213, 77215, 77216, 77217, 77218, 77219, 77220, 77221, 77222, 77223, 77224, 77225, 77226, 77227, 77228, 77229, 77230, 77231, 77233, 77234, 77235, 77236, 77237, 77238, 77240, 77241, 77242, 77243, 77244, 77245, 77246, 77247, 77248, 77249, 77250, 77251, 77252, 77253, 77254, 77255, 77256, 77257, 77258, 77259, 77260, 77261, 77262, 77263, 77265, 77266, 77267, 77268, 77269, 77270, 77271, 77272, 77273, 77274, 77275, 77276, 77277, 77278, 77279, 77280, 77282, 77284, 77285, 77286, 77287, 77288, 77289, 77290, 77291, 77292, 77293, 77294, 77296, 77297, 77298, 77299 — AND MANY MORE!
If your zip code is not in the list above, and you're located in/around Houston or Harris County, call us directly and we may still be able to send a locksmith to your location!
B"H LOCKSMITH ALDINE
BH Commercial Locksmith & Automatic Gate Repair
6720 Chimney Rock Rd suite r, Houston, TX 77081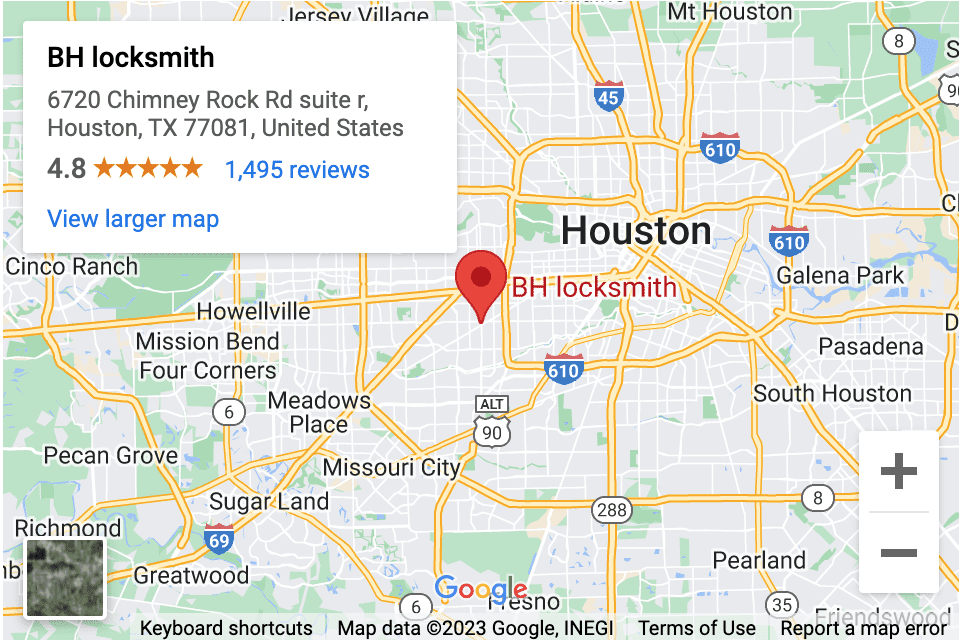 B"H LOCKSMITH HOUSTON
BH Commercial Locksmith & Automatic Gate Repair
6720 Chimney Rock Rd suite r, Houston, TX 77081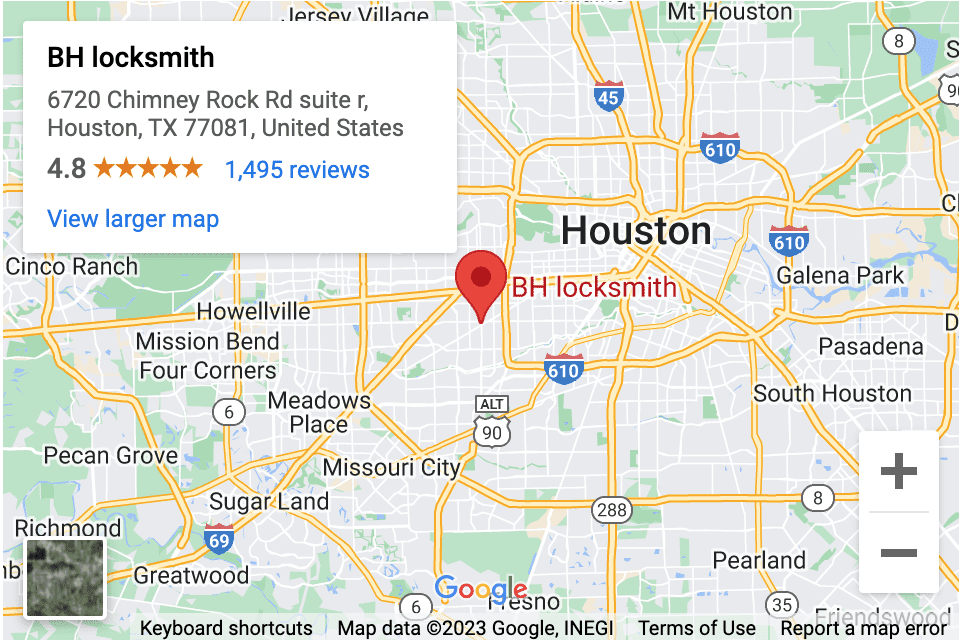 B"H LOCKSMITH MISSOURI CITY
REQUEST A LOCKSMITH ESTIMATE ONLINE
B"H LOCKSMITH HOUSTON
BH Locksmith Houston has been the one stop shop for all locksmith needs for the people in the greater area of Houston TX nearing a decade. We are licensed, bonded, and insured with a solid reputation of reliability and a wide scope of services. We offer any locksmith service from automotive, commercial, residential, and emergency locksmith services. For additional info, or if you're in need of a locksmith call now!