All About Car Key Replacement BMW
Have you ever lost your car keys before? If you lost it back in the 1990s this would not be such a big deal. If you lost your car keys then all you have to do is visit a reputable auto locksmith shop or
hardware store and you can readily purchase a spare key. Companies that offer BMW replacement key Houston are still unheard of. The downside, however, is that if you don't have any trouble getting another set of keys, criminals who want to steal your car will not find it troublesome either. The rampant car theft was the primary reason why car manufacturers developed (and still developing) key technology features that would make stealing car very difficult. Gone are the days of dropping by the hardware store for keys. Nowadays you need to find professional lock and key services such as Houston Locksmith for a BMW car key replacement.
History of BMW Car Keys
Advancements in technology have changed how a lot of things work from computer, to phones, and yes even car keys. Take the case of world renowned car manufacturer- BMW, the look of their cars and functionality have changed all throughout the years including its keys. From a physical key that needs to be inserted in the car door to lock and unlock it and to turn the ignition on, the BMW has gone a long way since then. Below is the evolution of their car keys.
1900s BMW Car Keys
From the 1960s to1970s BMW, just like any cars, has a key made out of silver metal that you need to unlock doors and start the engine running. Nevertheless, since BMW has always been an innovator, the company tweaked their key a bit to set it apart from other premium cars. BMW introduced a key that can fold over the base to make it more compact. Unlike other keys during this time, this "foldable" key from BMW was more convenient and comfortable when placed inside the pocket.
In the 1980s, BMW started manufacturing keys with plastic cases around the base of the keys. This feature made it easier to hold and keep the keys from getting lost. Furthermore, this design made it look much more classy and high-end compared to others. The design consisted of little holes in the cases for key rings and the infamous BMW logo.
In the late 1980s, keyless entry made their appearance among BMW's highest end and luxury cars. This is the reason why there were BMWs with separate remote control for locking and unlocking car doors. The design of the remote then was not yet polished. It looks heavy and just a clunky black rectangle with square buttons on the surface. If you are going to see one today you can readily tell how old the model was.
In the 1990s nothing much has changed in the BMW keys except for the addition of a small light to make finding the keyhole so much easier.
2000s BMW Car Keys
In the early 2000, BMW started adopting push button ignition feature in their cars. But then again not many BMW owners may need to call for BMW key replacement Houston services during key crises since only the most recent models have this high technology key feature.
At present, BMW car keys have gone a long way since the latest BMW keyfob drivers are not only meant to control the unlocking and locking of doors and trunk. The new BMW keys can control the interior temperature and even check charging status for hybrid models. This is why once you lose this kind of key you need to be begging to find a company that offers BMW key replacement Houston such as BH Locksmith.
Learning How BMW Cars Keys Work
The car locking systems at BMW are a well kept secret in order to keep the car secure at all times. However, it is also a known fact that car keys get lost or break when you least expect it. A lot of people don't know that the modern BMW car key is outfitted with a microchip and security code. This makes it difficult for anyone to steal a BMW vehicle; the onboard diagnostics recognizes the key and allows it to do several operations such as opening doors, setting off the ignition, and popping the boot.  Additionally, the i8 model also has a VCD display fob which shows the driver how much fuel is left in the car. This, and other new innovative functions, are being added to BMW car keys. While all is well, this makes it more difficult to do something about the problem of lost or missing keys.
What to Do When You Lose Your BMW Car Keys?
It is advisable to go to an authorized BMW dealership center for a key replacement should you have the unfortunate experience of losing your BMW car keys. However, the truth is that the process of reprogramming the system to accept a new key can be rather long. You will be asked to provide the center with your vehicle identification number, which is a unique 17-digit code given to all BMW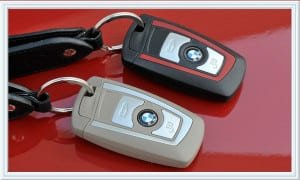 car owners. It can also be found on the steering column, or your car's dashboard. You will also be asked to show proof of ownership, as well as the registration papers. After this, you begin the long wait. The dealership orders it from the supplier, and could take several days. Most of all, it takes a whopping $5,000 for a key replacement from a dealership.
If you don't want to go through the hassles of waiting a long time and spending a small fortune on a key replacement for your BMW, you can seek the services of expert auto locksmiths. When your BMW key gets lost or if you experienced any key emergency, the best thing to do is find a professional that can do BMW replacement key Houston. Don't do anything on your own or ask anybody to just fix it for you.