Fence Gate Locks
Fence Gate Locks Service By BH Locksmith Houston TX
Providing the Best Solutions to Your Problems
Are you having trouble with your current fence gate locks? Do you want to replace them with long lasting one? Can't you open the fence gate lock because you forgot where you placed it? Whether you're having problems with your fence gate at home or in your farm, you are worry-free with BH Locksmith. At Houston TX, we are confident that any struggle regarding lock keys and gate locks will be solved. If you worry about your fence gate lock that looks rusty, damaged or not working properly, worry no more! BH Locksmith is here to serve you anywhere you are in Houston, TX. We are operating 24 hours a day, 7 days a week. You can easily call and tell us your concern any time of the day. You can be sure that we will respond to your problem right away.
Do you want to replace your fence gate lock? Are you tired of the usual lock and you want something newer, easier to operate, and stronger? If your current fence gate latch keeps on breaking when people or children are pushing through, then it may be the time to change your fence gate lock. It means that it's not strong enough to handle pressure. It might also mean that it is not safe enough. We at BH Locksmith make sure that all the lock replacements we offer are safe and sturdy so you don't need to worry on the quality of our products as well as our services.
When Facing Lock Problems
Problems about fence gate lock often give us trouble. Whether you're about to leave home or you have locked the fence gate, when suddenly, you have realized that the keys are not with you. You have looked for it in your pockets. You have checked your bag and anywhere else. But you remember that you might have left it inside the house. When this happens, don't wait for the day to pass without bringing a solution to your problem. BH Locksmith is just one call away. We have answers to any question you have in mind and we can work under different situations and circumstances regarding your fence gate lock problems. So, if you think you are in a critical situation that no one can ever help you, think again. You can trust our company with our honest-to-goodness service, client-friendly, and solution oriented teams that will deliver the job in the soonest time possible. No need to seek help from the neighborhood or from any typical people you meet along the way. Seek help from the professionals who know what they're doing and have the job done quickly. We also provide locksmith services to vinyl fence gate locks. Vinyl fencing has been widely patronized nowadays not only because it is more pleasing to the eye and does not need much cleaning, but also because it is easier and faster to install.  With vinyl fences, you can choose different colors that suit the color of your house, thus making it more personalized and 'homey'. Vinyl fence gate locks also come with fences like this. This type of fence gate locks also often gets damaged and loosens up quickly. That is why, we at BH Locksmith, look for ways on how we can fix your problem about vinyl fence gate locks. We make its life longer so you save yourself from the hassle of replacing the lock over and over again. You won't also need to have it repaired many times.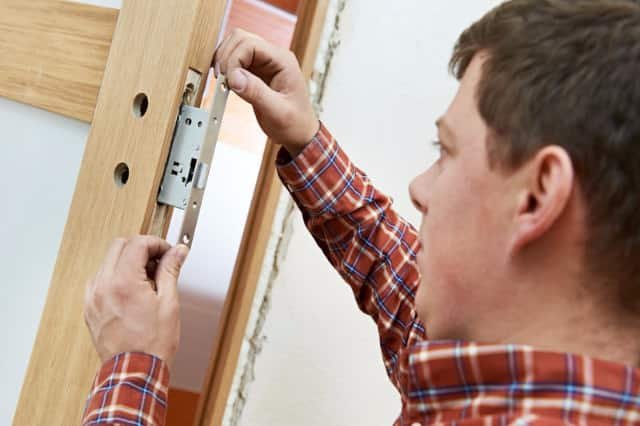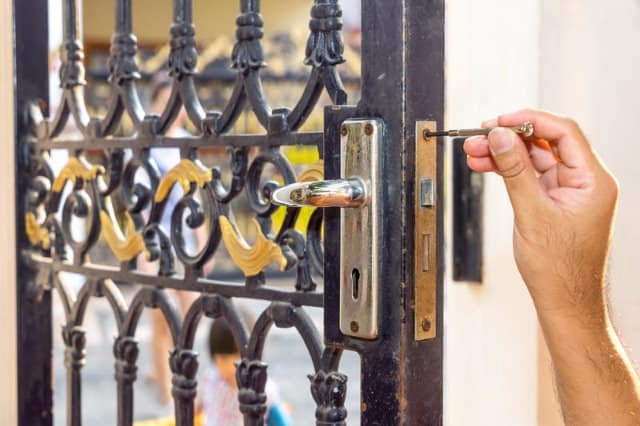 Fence Gate Locks – We Have More to Offer
Just in case you are somewhere far, maybe at the farm or in a rest house that is far from the city, and you encounter problems with your fence gate lock, you can still reach us and expect that we will be able to help y­­­­­­­ou. With our mobile locksmith, we can provide you assistance over the phone. Our team will immediately attend to you concern and address the problem the best we can. Because we believe that fence gate lock issues are one of the most stressful situations people can encounter, we want to take away the hustle and bustle in your life by providing locksmith service at your convenience. No need to search for do-it-yourself repair and replacement method, go straight to the expert–BH Locksmith.
With our locksmith service, you can trust that our work is reliable, efficient and high-quality. We are honest with our dealings. With that, our prices are also reasonable because you know that our quality of service is never compromised. We will help you fix your damaged fence gate locks, replace it with a new one, if needed, and educate you on how to take good care of the newly installed fence gate locks. Moreover, we will also provide simple ways and solutions that you can do for minor lock problems.
Trusting Us with Your Vinyl Fence Gate Lock Problems
Our team consists of professional and experienced locksmiths who have been in the industry for years. Their knowledge and expertise have proven their skills which are tested through time and refined through different situations about lock problems that they have encountered. Aside from that, they are licensed and committed to provide high quality service. They are trained to work under pressure so no situation can ­­­­­­­­­ever have them at panic. You will be able to experience this kind of service only with our company. We are the leading locksmith service in Houston, TX and with that we give you full assurance that we only hire the best in our team.
In addition, you don't need to worry if you have to pay expensive amount of service fee because of what we can offer. We make sure that our packages are reasonable and worth it. Unlike what others have advertised that you get the quality of service based on what you have paid, we at BH Locksmith don't believe in that tagline. In fact, you don't need to worry of spending a lot of money just to be able to afford our emergency packages. Even with our affordable prices and package offering, you are assured that we only provide the best quality. Not only best, but also fast and secure. So what are you waiting for, if you're having troubles with your fence gate locks, call now or visit our office in Houston, TX and experience the service that we offer.