Broken Mailbox Lock
A mailbox lock breaks down from time to time. In the event that you've found your mailbox lock damaged and isn't locking or is unlocking correctly, it will be best if you talk to a locksmith so as to get the lock repaired as soon as possible. If your mailbox lock is not working as it should be, you must get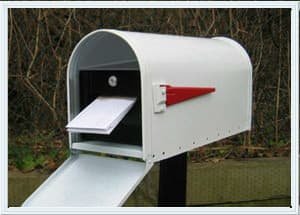 your phone and call us and we will initially try to resolve your problem by spraying some lubricant within the keyhole. This technique has been proven to solve the problem in most cases and it can help you save some cash.
Ensure that you use a lock-friendly lubricant. There are some lubricants that can be used to trap dirt and dust that might gunk up the lock. If this technique doesn't solve the problem then that broken mailbox lock Houston must be replaced. Leaving that unsecured will make you and your property vulnerable to privacy violations and identity theft. Replacing your broken mailbox can is the best solution to your problem and we can take care of that for your convenience.
Often, when homeowners give us a call, asking for help about locked mailboxes Houston replacement is because they've lost their key or that they were never given a key by the ex-owner of the house. When it's a case, we could pick the lock and open your mailbox then we will replace the old lock with another one which includes 2 keys so you have a duplicate key for your peace of mind.
When it comes to moving to moving to a new house, it's highly advisable to consider replacing the existing mailbox lock. You can never tell if there was a time when the previous owner of the house where you are currently living gave the mailbox key to an undependable ex-tenant. If you call around to get a free quote for locking mailboxes Houston, keep in mind that only hire a locksmith company like us that can give you a sum cost through the phone.
We Deal with Unlocking or Locking Mailboxes
Securing your mailbox from people who can do harm to you is always important in the same way with safeguarding your home. In some parts of the country, such as in Northern America, many of the mails for the residents of the area are delivered into their mailboxes which are mounted on the walls of their houses. These boxes are usually seen in public spaces having a great deal of traffic.
Changing the lock of your mailbox is a simple but a very important precaution from potential burglars and the process involved here is fast and straightforward. The locks on the mailboxes are extremely simple mechanisms. They typically come with 3 up to 5 small wafers within that match key configuration. The lock of will be fixed by a tiny c-clip that applies pressure from the door.
All we need to do is to just remove the old lock then it will be replaced with another one. In case that you've left inside the keys and you locked it accidentally, rest assured that we could get the lock to open it or we may drip it open so as to have access to its content and we will do it when needed. We will replace the used lock and you will have the new set of keys with 2 or more duplicates. In this way, you could begin from scratch with your mailbox security while being certain about the number of keys available and people who use and keep them. Ideally, mailboxes must be replaced with each new tenancy or whenever the keys are misplaced or lost. This is the best way to keep the contents of the mailbox sure and safe.
Here at BH Locksmith, we can change more mailbox locks compared to what other locksmith companies can do. We have well trained locksmiths who are equipped with each mailbox lock in stock that can be used anytime so you never need to wait. As a matter of fact, we're flexible and fast as we offer our clients with the same day locking mailboxes in Houston and we also provide emergency services that you can avail even in the middle of the night.
Affordable Pricing for Locking Mailboxes
We at Locksmith Houston believe that quality services should never be expensive. We are more focused on providing our clients with the kind of services that will keep them satisfied. Our locksmiths are eager to work day and night and we assure you that the entire process will just take roughly 15 minutes and with that, you can instantly have peace of mind and no more worries and hassles. If you accidentally lost your key, we will replace the current lock of your mailbox at a very affordable price.
BH Locksmith will always be eager to meet your needs and even exceed your expectations when it comes to our services. We keep ourselves committed to providing the best service to our clients which they can avail no matter what time or day it is. This is simply because we know that problems that only skilled locksmiths can fix may happen even in the most unexpected time of the day.
We do care about making our service available for everyone. We believe that it will help us a lot in gaining the trust of our valued clients. We keep on providing reasonably priced service, making our assistance easy to afford even by those people who have a limited budget. We are proud to say that we provide the most affordable pricing for locking mailboxes in the entire Houston area. More and more people turn to us and we see to it that all of them are happy and satisfied with the way we work. To provide fast, efficient but affordable locksmith service – this is our main goal which helped us to reach this good standing in the industry.
Once you choose to work with us, we will make you feel that you are in good hands right from the start. We will be very glad if you give us a call today, whether you want to avail our service or you have any questions. Please do not hesitate to get in touch with us anytime by calling us at BH Locksmith.