Panic Bars
Panic hardware is also known as the exit device that is specifically designed to provide the building occupants of easy and fast egress, especially during emergency cases. It can offer you ease of use and durability, so it is commonly installed in places that require the use of some code. There are lots of professionals today who can provide you high quality products when it comes to panic bars and one of it is panic bar Houston.
Different panic bar Houston criteria
We can help you explore the basic restrictions of the use of this panic bar hardware and we can offer you different style that is available for you to choose from.
Multi-point. It is the combination of 3-point latching, rim device and vertical rods that can be used for security purposes or to help you meet the requirements for windstorm.

Vertical cable or rod. It is typically used for latches and rods in the surface of the door or can be concealed inside your door. If it is used for concealing applications, we incorporate cables rather than rods for easy maintenance and installation. It is also installed in the less bottom rod to allow the floor strikes to be omitted from the bottom rod and latches.

It is a lock body that is installed in your door that is mounted in your door's face to control the mortise lock. However, it is commonly less used because of its product design and complex in door preparation.

It is the simplest configuration of panic bar that is easy to maintain. It can offer real security applications in the pair of doors.

Recessed panic bar. It will help you to reduce the projection of the hardware from the face of the door but needs cut-out in your door that might limit the door material.

Crossbar style. It is one of the often used style due to its minimal silhouette for your glass door.

Touchpad style. It is the common style for modern buildings for it is flexible for electrified options like control egress, delay egress, electric latch retraction or electrified lever trim.
These are the panic bars you can choose from wherein most of it is locks that can:
Be unlocked by the clinical staff at all times.

Unlocked remotely

Unlocked when there is a fire detection system
With this, you will have the assurance that you will meet the standard code of lock for your backdoor exit.
Benefits of installing panic bars Houston
Panic bars acts as your door component that is designed to allow a safe and fast exit in your doorway. It is typically found in the exit doors in most populated area like businesses, malls, bars and restaurants. Some panic bars are equipped with alarm system to avoid unauthorized exits. Once the siren alarms, someone has pushed the panic bars. Due to this, it will give you the assurance of having
safety in the place. Therefore, you are required to install it in your business or commercial building and we are the professional Houston locksmith who can help you in terms of its installation.
Most emergency exit needs to have panic bar to efficiently allow a large number of people who wants to exit through the doors and have a safe evacuation. It is considered as a quintessential device that can save lives in case of emergency and evacuation procedures. It is a fast mechanism that reduces the risk of the rushing crowd being overwhelmed in the exit.  
When there is emergency evacuation, having the perfect plan for your exit will avoid any severe injuries to the crowd of people. They can exit from the building safely and secured as well. Because of this, most business owners choose to install it in their exit door and ensure that it is properly installed but in this kind of door, there will be no re-entry. However, there are some exit doors that have key locks outside to allow authorized users to gain access in this door using a key. You can also install a removable handle, with or without a key lock cylinder.
It is highly recommended to be used in large-scale businesses for their emergency exits that can be used by their customers to have safe evacuation in the event of emergency hazard. Panic bars Houston can provide you complete services and we have the ability to install different types of lock system around Houston. We can also help you select which panic bar is the right one for your business.
Why choose panic bar door Houston?
If you are looking for high quality panic bar in Houston, you are in the right place. We will bring different types of panic bars from reputable and trusted manufactures in the area. We are not just selling you these quality products but we can also offer you affordable and quality installation services.
We will ensure you that we can replace your old device properly, provide you commercial or industrial type of panic bars and meet all of your needs. Once we have installed the panic bars in your exit door, you can now facilitate it to have fast movement of crowd in your building that will reduce the number of casualties and injuries. We know the fire codes required in the building, so we can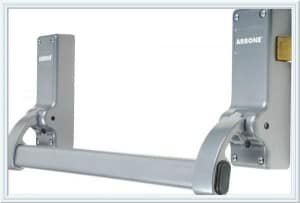 easily help you deal with it when it comes to choosing the best one for your business. It is the best option for you to choose our services because we know exactly what to do. We are well-experienced and qualified in selling and installing panic bars, so rest assured that we will provide you the best services that you are looking for.
We have the right and high quality panic bars products that are made from quality materials that will surely last for years of use. We are expert in ensuring the safety of your building and we can offer you affordable and reliable installation services of your panic bars. We have a good team who has the right expertise and skills to finish the job be in right manner. All of our technicians are qualified and can handle different types of panic bars installations. Always feel free to contact us in case you want to have more information about our products and services.
Among of the services we can offer you include:
Replacement of panic bars

Installation of metal or wooden panic bars

Auto relocking of your doors

Exit alarm system
At panic bar door Houston, you will not just get quality panic bars product but you can also save money.