Sliding Door Lock
Sliding Door Lock Service By BH Locksmith Houston TX
Sliding Doors are Great Additions to Property Interiors
Sliding doors are always classy, sleek addition to home and office interiors. They make places seem more spacious and bring in the feeling of openness. They are sustainable, and the transparency of the glass allows natural light to be brought into our homes and offices helping us to save energy by providing an alternative to using light bulbs. It's a beautiful home and office feature, and has been popular for so long. It's convenient, stylish, and adds a bit of a modern twist to our properties. That is why some people have opted to use these instead of the regularly used swing doors. However, sliding doors have also their disadvantages, which could risk our safety. One of which is that jiggling the handle could easily pick the lock. Some people have also the bad habit of leaving it unlocked by accident. It's a scary thought to think about; especially it could lead to dangerous situations. If you don't immediately and properly attend to it or find a way to avoid any misfortunes from happening, you will be sorry.
We want to keep our homes and offices as secure as possible, so that no intruders have any chance of breaking in. Having your properties safe means ensuring that every single point of entry has the proper tools installed on them. It means to make sure that no one can get inside without permission. Luckily for us, there are locksmith companies that sell durable and strong sliding door locks in the market to ensure our safety. There are also skilled and trustworthy locksmiths that can make sure your sliding glass door lock is fully intact.   You'll be guaranteed peace of mind knowing that you're safe and secured in your property.
Always Checking Upon Sliding Door Locks
While installing really securing locks on front doors and windows is an easy task. Sliding doors can be a bit more difficult. This is why it's important to make sure you check on every single detail about your door. You have to provide the lock to demolish any risks. You have to rely on expert locksmiths to fully confirm that your sliding door lock is secured and will be surely efficient.
Before anything, you would want to test out the current lock installed to your door. Sliding doors are usually designed to have the lock located on a certain side and seen in the door's handle. It consists of a latch which keeps the door attached to the frame. Test this lock out by closing the glass door, pulling up the latch to lock it, and then try sliding it open. If the door proceeds to move, that means that the lock isn't doing its job. So, make sure to immediately replace this. If you don't regularly check on your lock and test it every now and then, there's always the possibility of not knowing your lock is actually broken, which can endanger you and everyone in your house. It's advised to hire reliable locksmiths, like Locksmith Houston TX, to make sure that the new replacement sliding glass door lock is properly installed.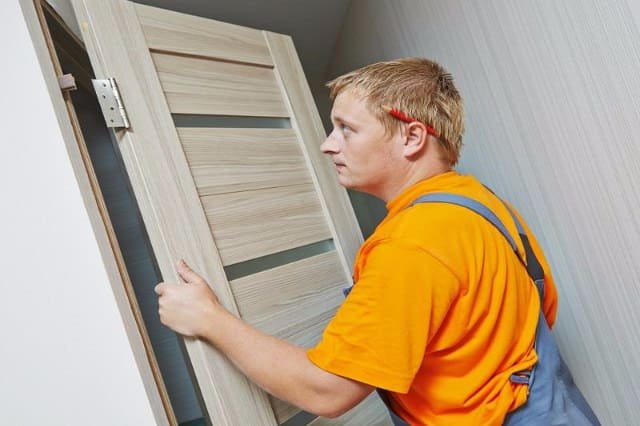 Best Choice for Sliding Glass Door Lock Installation
It's recommended to hire a professional locksmith since he has a good amount of experience and knowledge on locks and various security issues. He's trained to improve your home and office security by enhancing your locks and making sure that they function properly. Locksmiths from leading companies are always equipped with good tools. They provide you with complete security solutions to give you the peace of mind you need and deserve as a property owner. Risking your safety with an inefficient locksmith can root to more problems in terms of security. They can possibly make things worse or not give you the entire package of fully solving any problems regarding your locks.
BH Locksmith in Houston, TX knows and understands how safety and security should always be prioritized. They offer 24 hours of services, and make sure to always provide their customers with reliable, skillful, and trained locksmith experts. They're able to ensure you with good service with how experienced and qualified their locksmiths are. They only use quality equipment, where you can be assured, are durable and won't disappoint. They can quickly solve any of your security problems and can offer numerous amounts of locksmith services for various situations. They are dedicated to giving their customers total satisfaction. They would never take your trust for granted. They're aware that you won't be present all the time to guard your property. How important it is to have good locks that you can rely on.
Turning to Quality Service
We will never really know where and when intruders would do anything. This is why you can be one step ahead of them by installing a security system that can prevent them from doing anything to you or your property. No one wants a wonky lock that's weak and can easily be damaged. You wouldn't want anyone coming in your house anytime or have any chances of being locked outside. In times where your lock may get broken, never reach the level of desperation. This can lead you to ask any random person or locksmith to fix your problem. Your security system is a very important tool in your home or office that you must monitor and always take care of. Never result to using weak or cheap things as this can set you up for danger.
Sliding doors provide you with a clean aesthetic room and maximize the space in your home or office. It's trendy as it definitely keeps up with modern times. Everyone wants a good-looking interior, as this can be relieving and satisfying. As property owners; however, we should see beyond the aesthetics and also consider practicality. Safety should always be the top priority. Security should never be taken too lightly. Never put yourself at risk. Go hire a professional locksmith to install a top quality lock on your sliding door today! Locksmith Houston, TX is definitely a great and reliable locksmith company choice to ensure that you and your safety are always considered first.