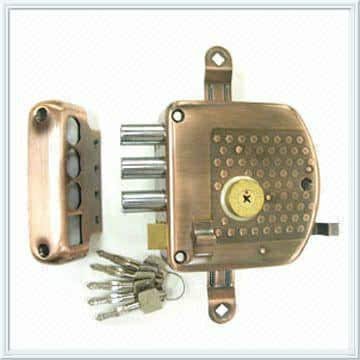 The best deadbolt lock installation service in Houston, TX
Many people commonly think that installing deadbolt lock Houston is a difficult job. Usually when you replace a lock, the existing holes in the door match up with what you need for your new deadbolt. Before you buy a new lock, make sure that you check to see that it will cover the entire hole in the door left by the old lock. Of course, you don't want it to be a bit smaller and show some of the old hole that was drilled there. This is not very likely as most doors have a standard size hole drilled but better safe than sorry. Today, there are several companies that offer deadbolt lock installation service but it is very important to choose for a reliable and reputable one like Deadbolt locks Houston. Here, you will know and learn the simple steps of installing deadbolt lock.
On the back of the lock on the inside of your door, you will see two screws. These two screws anchor the back and the front together pinching the lock on the door. Take out these two screws and you can pull the back and front of the lock off of the door. Make sure that you hold the front of the lock or it might fall to the floor damaging something.

The next step is to take the bolt out of the door. Just repeat the steps backwards and the new deadbolt will go right in. Once this is in place take the back and front of the lock and place them together on the door. There will be a flat plate that goes through the bolt from the front face of the lock.

The last thing you have to do is replace the strike plate to match the one from your new lock. It will either have 2-4 screws with it. The two longer ones are to anchor the plate. They reach deep into the door so if it gets kicked it will be much harder to knock the door open. The other two are on all plates; they just hold the strike plate in place. Once you have screwed these in, you should be ready to go.
Benefits of Installing Deadbolt Lock
It is always better to take preventive steps instead of finding yourself in a regretful position. Talking about safeguarding your office, shop or home, you can't afford to be careless. Never be bombastic about the safety aspect of your belongings, make sure you are well-prepared to prevent any mishap like theft. What is the best thing to do to keep burglars at bay? The powerful and simple step like setting up deadbolt lock in your main door is extremely beneficial. Locksmith Houston can greatly help you in installing this type of lock into your home. Here are some of the benefits of installing deadbolt lock in your home. Check these out:
First and foremost, they are attached to the doors permanently. It simply means that they don't retract or move to their original position once opened. Therefore, they help you in overcoming this disadvantage in the case of spring locks.

The distinctive feature helps the doors to remain strong and resist any kind of forceful entry by miscreants. Without the right set of keys, these locks can never be opened.

You can use deadbolt lock as a supplementary feature along with the spring locks to provide a double-layered security to the doors.

According to your needs, you can opt a suitable type of deadbolt lock, such as double-cylindered or single, exit only, push-button and classroom function. Most of these locks are affordable so that you can efficiently empower the locking systems in your home.

If you want to gain the maximum benefits of deadbolt lock, you need to make sure that they are properly installed. It is not an easy job to choose a good lock since there are lots of homework that goes into it, starting from browsing through a wide range of products to checking their sturdiness and identifying if they are graded as top quality.
When it comes to deadbolt lock, Deadbolt lock Houston can greatly help you in choosing the best and high quality deadbolt lock for your home and office. Our company can assist you in installing your deadbolt lock.
Why Use Electronic Deadbolt?
Electronic deadbolt lock Houston offers every homeowner the chance to secure any door in their home. They still have the regular key feature but they also have a lighted keypad that you can customize a combination for unlocking the door. In addition to this, electronic deadbolt is ideal for darker areas of the exterior of the home and for people who usually lock the door handle and the deadbolt. Just like the traditional deadbolts, the electronic deadbolt lock can be of high quality, and it can be of very low quality. In order to ensure a high quality product, it is highly recommended to buy one from a reliable and reputable manufacturer.
Choose an electronic deadbolt lock that is rated and reviewed by industry consumers and experts. Installing an electronic deadbolt lock can be a bit tricky. Poor installation can cause malfunction and complete failure. If you want to install electronic deadbolt lock, make sure that your manufacturer offers technical support. Majority of the quality manufacturer will provide too free numbers specifically for installation support. The lock strength, rust resistance, strength and durability of electronic deadbolt locks will vary from model to model and brand to brand.
With the help of electronic deadbolt, you are assured that you will get what you pay for and there is no good value in cheap brand and models. If you are in search for the elite manufacturer of electronic deadbolt, electronic deadbolt Houston can be a great help. When it comes to home security products, our company is the ideal choice to consider and hire. For more details and information about deadbolt locks, browsing the web and conducting a research is the best thing to do.